Notice the sharp dropoff in messages from 2013 to 2014: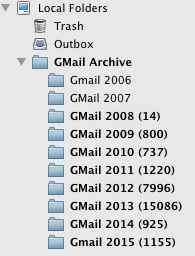 The reason why there are messages at all is that I still have a couple of alerts that get delivered to that address.
And contrary to many technophiles I'm still alive, I can still communicate with everybody, I get everything done in other words: we don't necessarily need Google for everything.
Although I wish that the problem of search would be solved far better than it is now. Even though Google is doing a great job, it could be much better:
downrank obvious content farms
remove illegal content from the results
remove scammy websites from the ad-network
I know it's not easy, but when has Google every shied away from a hard challenge? You can do it, can't you?